I think the most important thing that it taught me was that everyone is responsible for everyone else. We cannot hide behind false borders or foreign policy - WE AS A RACE OF HUMAN BEINGS are totally connected and responsible for everyone else. I fear that American Capitalistic Democracy had pulled the wool over the eyes of the people for too long now. The youth need to learn that things can change. There can be a better tomorrow, if we only try and MAKE it happen. And the stewards programme shows that there ARE OTHER POSSIBILITIES OUT THERE!
Samantha - Orthodox, USA (Central Committee, Geneva, Switzerland, 1999)
Each of us looking back will recall much frustration and anger at the way situations developed. It will be easy to remember the lengthy late night talks about language usage or divisive tensions in the group, etc. Yet, there is another side to all of this. There was a real sense of community established. We learned to listen to one another, and we began to share ourselves. We reached out to others with genuine care. A sense of unity above all divisions became very real.
Andres - Thailand (Central Committee, 1982)
The participation as a Steward at the Central Committee Meeting has been a fantastic opportunity for me to breathe ecumenical air on the highest level. Meeting Christians from all around the world and coming in touch with them was very enriching for me; and I was impressed very much by the diversity of spirituality, the directness of expressing faith, the differences of access to biblical and theological subjects and topics, their humor, their joy of singing & their creativity...
Hannah - Lutheran, Germany (Central Committee, Potsdam, Germany, 2001)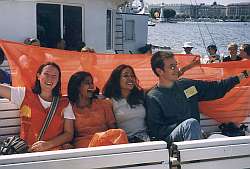 I developed new relationships, made many friends around the globe, and am still in touch with many!
My project was to design a website (friends from several denominations were participating), and we did it -- the website currently contains more than 2000 devotionals and is (as far as we know) the biggest and most complete site of its kind in Slovakia!
The spiritual parts of the program originally created chaos in me: some of the activities seemed to me "ok, let's accept anything". During the meetings the Orthodox prayed to Mary and Lutherans said "amen!" (isn't this hypocrisy?) and when a feminist theologian preached during the morning worship, the orthodox were pretending that they were OK with it... no, they were not, as some of them said when we talked later on!
This is not to say that we should not meet and worship together, but what I really missed was looking for a "common ground" to build upon; it was rather not even trying to find a common ground, rather pretending that it is not needed...because of the personal relationships, it hurt less when going through the struggle.
Jan - Lutheran, Slovakia (Central Committee, Geneva, Switzerland, 1999)
The Stewards Program has given me a kind of anxiety and discomfort with the way Christians in the world relate to each other today. In the environment of care and friendship that the Program created I understood that it isn't really Christian to sit in one's own isolated, cosy world not even trying to engage in dialogue. I realised that ecumenism is neither about shouting "No!" without even listening nor about nodding in meaningless acceptance to everything we are confronted with. For me it is about listening, learning and respecting. Only if I behave like that, I have the right to expect the same from the others.
And I made friends for the lifetime!
Lukasz - Orthodox, Poland (Central Committee, Geneva, Switzerland, 1999)
The group of stewards were very varied and so also were the reasons for their coming to the assembly. For some it had been a not-to-be-missed chance to travel. For some others it was an occasion for reaffirmation if their faith in Christ and to seek practical ways in which they could work for his glory. Then there was the third lot whose purpose for coming to the assembly was perhaps the most important. They were young people, absolutely disillusioned by institutionalised religion, but still wanting sincerely to know what Jesus Christ was really all about. For them, the WCC fifth assembly was the life boat that could prevent them from sinking into the murky see of atheism. Talking to theses and all others it was quite a revelation to find that basically young people are all the same. We share the same desires, frustrations, ideals and values, whether we come from the affluent West or still developing East. I will always remember our heated discussions prolonging well in to the night, on various issues pertaining to youth. We woke up next morning with a splitting headache but happy within, knowing that we couldn't be all that stupid if there were others who shared the same confusions as ourselves.
Aneeta - India (General Assembly, Nairobi, Kenya, 1975)
After the meaningful exposure programme, I still feel very close to that far away country. I read the newspapers with new eyes, I feel personally involved, I have followed the elections closely and watched the developments since. I have tried to share my experiences and impressions with as many people as possible since I came home.
Kerstin - Germany (Central Committee, Johannesburg, South Africa, 1994)
The two great lessons I learned from the stewards programme was how to listen and how to show empathy ! I learned that effective conversations or dialogues could only be achieved when both sides were willing to listen to each other, and to take account of where the speaker came from, of the local context, social and cultural setting.
The stewards programme gave me a taste of diverse realities through new friends I met from all over the world. The bond of friendship developed genuine sympathy and empathy, and made every his story and her story, also my story.
I learned that to be ecumenical was to learn to let go the 'righteousness' feeling of one's denominational practice. Diverse ways of worships in Christianity is just a matter of different ways of being comfortable while being intimate with God. Neither should claim to be the absolute truth, because neither has the right to do that. Only God has the answer.
Elis - Reformed, Indonesia (Central Committee, Geneva, Switzerland, 1999)
It was a marvelous experience to be together with people from so many different cultures. Then, it was great to have theological discussions with people that were not Orthodox.
It is wonderful that we have those memories and it is so good that we keep in touch and care for each other. This is a source of being optimistic and feel that we have support, even from people who are so far away.
Gabriela - Orthodox, Romania (Central Committee, Geneva, Switzerland, 1999)
The impact of the Stewards Programme? Surely, capability to come out of my village, my head, my skin, my culture and tradition, my "sect", my walls, myself after all! To touch other lives and be touched (sometimes even shocked) with others joys, pain, poverty, miracles, way of dancing…
Dragomir - Lutheran, Croatia (Central Committee, Geneva, Switzerland, 1999)