11.01.05
A dangerous theme?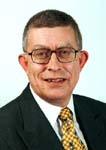 From a Bible study on the book of Jonah:
We have done a very dangerous thing in choosing as the theme for the Porto Alegre assembly "God, in your grace, transform the world"... We are actually calling on God, in God's grace, to transform the world - the oikoumene, "the whole known world", all things. This includes us and all that we hold to be self-evident. There is an apt expression - "be careful what you pray for, you might just get it". Jonah did not volunteer for transformation - he was an unwilling and even resistant participant. Yet his very reasonable and trustworthy certainties, at least "reasonable" to him, were transformed. How much more might God transform those who ask for it!
Assuming that we have not chosen the assembly theme simply because it sounds commendable, could we stand it if some of the things about which we are certain are transformed? We have to face this question because it is so easy for people to caricature the WCC as being rather naively against evil and in favour of good. We can condemn the oppressor and the oppressive system. We can speak out against all that prevents fullness of life for all humanity. We can question those who seek to use religion to promote hostility and violence. How we long to see all those things transformed, as if we were detached observers rather than complicit participants! Yet, to focus on simple steps in personal transformation, try for the sake of the environment to restrict me in the use of my car (let alone transform me into a pedestrian and user of public transport) and I will come up with many self-justifying reasons to remain as I am. But transformation cannot be only for others.
| | |
| --- | --- |
| | Simon Oxley, WCC staff team on Mission and Ecumenical Formation |
---