19.10.05
Bolivian Indigenous bishop calls for solidarity from churches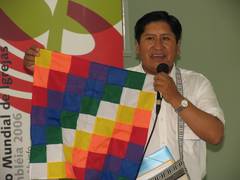 The bishop of the Evangelical Methodist Church in Bolivia, Carlos Poma, called on churches to be in solidarity with the Bolivian social movement.
Poma was addressing some 60 representatives from Latin American churches and ecumenical bodies meeting in Mendes, Brazil from 16- 8 October in preparation for the 9th Assembly of the World Council of Churches (WCC).
"The world must listen to the clamor of excluded people" said Poma, who is a member of the Aymara nation. The bishop also demanded "guarantees for the social movements and their leaders, because there is fear for the lives of these social actors who defend the poorest".
Bolivia is one of the poorest countries in Latin America despite its extensive natural resources, he explained. But "the interests of transnational companies" represent "death of thousand-year-old Indigenous peoples such as the Aymaras, Quechuas and Tupi Guaranies".
According to Poma, the "exhaustion of the neoliberal model," incapable of "preventing poverty," leads to "social uprising" on the part of those who "have no bread, no shelter, no land, no water, no light, no gas, no work".
He recalled that pastors from his church "marches alongside the people in the midst of the repression". According to Poma, "as a church, we cannot stop listening to the emerging clamor of social injustice and the economic crisis in general. We are sure that our life is not condemned to failure and destruction."
---