17.02.06
President Lula asks Assembly to "keep alive the flame" of solidarity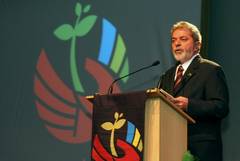 More articles and free photos at
www.wcc-assembly.info
Luiz Inácio "Lula" da Silva, president of Brazil, received an enthusiastic reception Friday as he addressed the delegate body of the World Council of Churches' 9th Assembly. The president thanked the WCC for its leadership in "the quest for a world at peace".
WCC general secretary, Rev. Dr Samuel Kobia and Latin American church leaders joined the president on the plenary hall stage. Catholicos Aram I, moderator of the Assembly, welcomed President Lula "in the spirit of Christian fellowship, love and solidarity".
The president spoke for nearly a half hour, interrupted numerous times by applause. He began by thanking the WCC for its work, especially during the 1970s and 1980s when Brazil was under totalitarian rule. "We found in the World Council of Churches not only moral and spiritual incentives, but active solidarity and effective support for us to go on believing in our own battles . . . struggling to defend human dignity and freedom", he said.
He expressed special gratitude for the WCC's welcome of Paulo Friere, a noted educator who was forced to leave Brazil by the military regime during that era. Friere joined the WCC staff in Geneva, Switzerland, as a consultant after his exile.
President Lula also praised the WCC's efforts in hunger and poverty relief, issues that have been central to his agenda since his election in 2002. Brazil and the Council, he said, share many common concerns.
He said the most important thing is "keeping alive the flame of fraternity and solidarity among all peoples of the world". He called on the WCC to "continue working together with us to build a society that is more fair" for all people, and a more peaceful world. The president concluded by lifting up the importance of coming together at events like the Assembly to share ideas, engage in dialogue, and gain strength and renewal.
Many Brazilians left the hall smiling, embracing, and raising their hands in the air. "Having the president here was a great thing," said Tiago Schmidt, a Brazilian youth attending the Assembly. "It shows we (Brazil) are receiving the Assembly with open arms."
Assembly website:www.wcc-assembly.info
---