19.02.06
Desmond Tutu: "We can only be human together"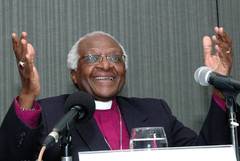 More articles and free photos at
"A united church is no optional extra," said Archbishop Desmond Tutu in an impassioned speech to the World Council of Churches 9th Assembly in Porto Alegre. Rather, he said, it is "indispensable for the salvation of God's world".
Tutu's audience had just taken part in a plenary session on church unity. He referred to the film "The defiant ones", in which two convicts, one black and one white, escape handcuffed together. "We too can only make it together - we can only be safe together," he said. "We can be prosperous only together. We can survive only together. We can be human only together."
Tutu referred in his address to the struggle against apartheid in South Africa, and paid tribute to the support given by the WCC, particularly through its Programme to Combat Racism. "This was controversial but was quite critical in saying our cause was just and noble and that those who, as a last resort, had opted for the armed struggle were not terrorists but freedom fighters," he said. "Nelson Mandela was no terrorist."
The WCC was his "mentor", and he owed it a very great deal, he said. "You, the WCC, demonstrated God's concern for unity, for harmony, for togetherness, for friendship, for peace, and you must celebrate that, you must celebrate the success you notched up in defeating apartheid, for you were inspired not by a political ideology but by biblical and theological imperatives."
However, he said, apartheid had continued so long because the church was divided, and God called it to unity, adding, "Jesus was quite serious when he said that God was our father, that we belonged all to one family, because in this family all, not some, are insiders.
"Bush, bin Laden, all belong, gay, lesbian, so-called straight - all belong and are loved, are precious."
Speaking to journalists after his address, he said that Christians "did not have to feel insecure in the face of people from other faiths". He had mentioned gay and lesbian people, he said, because "I would not be able to keep quiet and see people penalized for something about which they could do nothing."
On Robert Mugabe's regime in Zimbabwe, he said that he had "admired" Mugabe, who was at one time "the brightest star in the African firmament," who had brought reconciliation and reconstruction to his country after the war which ended the rule of the white minority.
"But something happened to him, because now he oversees something that is totally unacceptable. We, and all of Africa, should be prepared to say that violation of human rights is violation of human rights, whoever does it."
Of relations with Muslims, he said, "I hope that the WCC will preach that it is adherents of a faith who are good or bad, not the faith. No faith says, 'We believe in injustice or violence.'"
He said of economic progress in Africa that the situation required a two-fold approach. Rich nations had to understand that an unjust economic order could not continue. However, he added, "We have been our own worst enemies. Africa has had a succession of corrupt governments - though Mobutu and Savimbi were encouraged by the West. But we too have responsibility. Government exists for the sake of the governed."
Assembly website:www.wcc-assembly.info
Contact in Porto Alegre:+55 / 51 8419.2169
---