16.02.06
Cardinal Kasper: Roman Catholics committed to ecumenism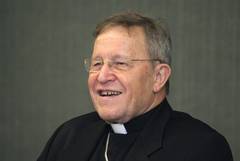 More articles and free photos at
www.wcc-assembly.info
The president of the Pontifical Council for Promoting Christian Unity has stressed the "irreversible" commitment of the Roman Catholic Church to ecumenism.
According to Cardinal Walter Kasper, who spoke to journalists at the 9th Assembly of the World Council of Churches, the Church had not become a member of the WCC for structural reasons as the Roman Catholic Church was a universal rather than a local body, but it worked with the Council "with no rivalry or competition, but in friendly collaboration".
Both Pope John Paul II and Pope Benedict XVI had reaffirmed the Second Vatican Council's ecumenical emphasis, he said. "We can do a lot together in this intermediate situation," he added, instancing the 16 bilateral dialogues in which the Roman Catholic Church was involved.
Cardinal Kasper, an ecumenist of wide experience, referred to changes in the ecumenical scene caused by the growth of pentecostalism and the forces of secularization.
The growth of new pentecostal and evangelical churches, he said, was "challenging". "With classical Pentecostals, we have good dialogues. With these new churches, it is very difficult, because they have no central organization.
"A dialogue of everyday life is possible, but a theological dialogue is not, because they have no unified theology and are often very aggressive. The neo-pentecostal movement is evolving, and we don't see what will be at the end of this development." Their growth, he said, posed questions for Roman Catholics about the effectiveness of their pastoral care and the attractiveness of their worship.
The cardinal faced questions about tensions caused by different churches' attitudes to homosexuality. "This is a new phenomenon, because in the past all Christian churches took the same position," he said. "This causes division between churches, and within churches. The principles of the Church are very clear, but there are anthropological problems which we have to discuss and solve." The Roman Catholic Church, he stressed, was "against every kind of discrimination".
Assembly website:www.wcc-assembly.info
---