22.02.06
To transform the world, practise what you preach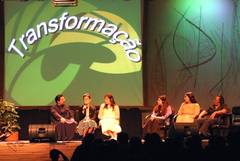 More articles and free photos at
A panel "show" during the World Council of Churches 9th Assembly, meeting at Porto Alege, Brazil, today concluded that God's grace has transformative power, even in the midst of terrible things, but the transformation of the world required action from the churches for justice, compassion and inclusiveness.
A plenary on the Assembly theme "God, in your grace, transform the world" was a convergence point of discussion and reflection that had taken place during the Assembly in committees, workshops and Bible studies.
Rev. Angélique Walker-Smith of the National Baptist Convention USA welcomed the plenary audience to her "morning show" with a panel of guests given the opportunity to share stories of transformation and grace.
Rev. Joseph (Leandro) Bosch of the Ecumenical Patriarchate of Constantinople asked, where in a world of war, hunger, poverty and decadence was God?
Ms Gracia Violeta Ross Quiroga, a representative of REDBOL (National Network of Bolivian People living with HIV and AIDS), said she had suffered sex abuse and was left with HIV and AIDS but she had known the love of God and came to rely on God because no-one else would help her.
Ms Sarah Newland-Martin of the Bethel Baptist Church, Jamaica, represented Jamaica in the Pan-American wheelchair games from 1972-1982 and in the 1980 para-Olympics. She said her life had been fully transformed by baptism through the grace of God.
Ms Carmen Lansdowne, an indigenous person and member of the United Church of Canada, noted how indigenous people had suffered not only at the hands of the state but also at the hands of the church. Now, she said, she hoped Assembly delegates would act on the WCC Central Committee's February 2005 call for member churches to urge the establishment of a UN International Year of Indigenous Languages.
Ms Paula Devejian, from the US and currently working in Armenia for the Catholicosate of All Armenians, said that by meeting people from every area of the world she had been strengthened by the commonality of their struggles.
Korean Professor Namsoon Kang, vice president of the World Conference of Associations of Theological Institutions, said her encounter with feminist discourse and with the ecumenical movement led to her transformation.
Bosch answered his own question, saying, "God is here, transforming the life of each of us" through suffering, pain and all the things people could not understand. "It is God who is able to bring about the miracle of life, who will go on perfecting the world and the life of each of us … often in his absence, in his silence."
Quiroga said, "We need to be able to give faithful witness that God is working through us and on us." She called for the involvement of more people, new people, saying, "Whatever problems we have to deal with, we will do our work better if we do it together."
Kang added that there was costly ecumenism and cheap ecumenism. Cheap ecumenism was just the empty proclamation that "we are one in Christ" while nothing was done about exclusion based on age, gender, sexual orientation, colour, race and disability. But costly ecumenism accompanied transformation. It required personal and institutional repentance and acknowledgement that "all of us belong to the family of God."
Quiroga said, "We must practise what we are preaching. The mission that God entrusts to us must be practised regarding HIV and AIDS … You all have responsibility to start programs of information. Get in touch with people like me." And Devejian said, "We should not discriminate against anyone. We must fully integrate people with disabilities into church communities."
Bosch said, "God is challenging each one of us: "This is the moment. I am waiting to see what you can do together. God is waiting and hoping we will transform the world."
Assembly website:www.wcc-assembly.info
Contact in Porto Alegre:+55 / 51 8419.2169
---