22.02.06
Latin America: Churches' struggle for "life and dignity" commended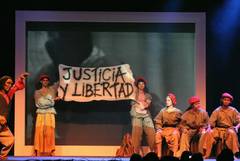 More articles and free photos at
Meeting in the first WCC Assembly ever held in Latin America, delegates at the 9th Assembly of the WCC on Thursday 23 February adopted a statement that "commends the Latin American churches in their work to overcome poverty and injustice, heal the wounds of violence, struggle for life and dignity, [and] grant equal treatment to all religions in national legislations".
The statement notes that the work is not finished. It asks for further development of those efforts and reflection on a variety of issues, while encouraging the region's peoples "in their struggle to build new societies which respect the dignity of the whole creation and pay special attention to the most vulnerable and excluded, including Indigenous Peoples and African descendants".
Such concerns, the statement says, are at the heart "of the particular theological approach known as Liberation Theology". That theology's expression in the Latin American churches, it says, has been "a gift of God to the whole Church," and it asks for more such contributions to ecumenism.
Likewise, it calls on the region's governments to "strengthen their work" in facing "the challenges of the present world" and to seek "effective policies" related to poverty, injustice, the environment, human rights and democracy.
It appeals to WCC member churches and staff to emphasize exchange programmes with Latin American churches and ecumenical organizations and "look for new ways of interacting with the churches and peoples of the region". The Assembly urged the broader international community, including international financial institutions, to "recognize the illegitimacy of external debt that burdens the region" and create more just economic policies.
The statement notes that the WCC's Decade to Overcome Violence focuses on Latin America this year and invites "active participation" by churches and others in that effort. It observes that, especially in recent years, "Ecumenism has made important contributions to the history of Latin America" in human rights and justice issues.
The full text of the "Statement on Latin America" is available at
www.wcc-assembly.info/en/theme-issues/assembly-documents/plenary-presentations/committee-reports/public-issues-committee/final-report.html
Assembly website:www.wcc-assembly.info
Contact in Porto Alegre:+55 / 51 8419.216
---