22.02.06
Camp offers opportunity for Latin American youth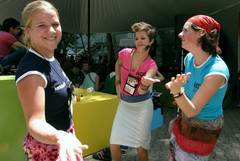 Running concurrently with the World Council of Churches 9th Assembly in Porto Alegre, Brazil, is a camp for Latin American youth. About 180 are participating; the response was so strong that organizers had to open up a second facility to accommodate everyone.
The youth, who come from both Spanish- and Portuguese-speaking regions, had to be recommended by their individual churches. The WCC is providing housing and meals for the participants, but they had to raise the funds for their own travel to Porto Alegre. As a result, the majority of the youth come from Brazil and the southern part of South America.
David Cela Heffel and Claudio Becker have organized a programme that includes significant participation in Assembly events, as well as events especially planned for the camp. Heffel said it was planned to "give a chance for ecumenical participation by youth while the Assembly was in this region".
The youth have been taking part in - and occasionally leading - mutirão workshops on the Assembly campus, along with prayer services and the Latin American cultural celebration on Sunday.
Evening programmes at the camp have included a cultural showcase evening, a discussion on gender issues, a presentation on ecumenism in the Latin American context, and the March for Peace in downtown Porto Alegre with Nobel Peace Prize winners Adolfo Pérez Esquivel and Desmond Tutu. Singing, fellowship, and celebration have also been a part of the time together.
Assembly website:www.wcc-assembly.info
Contact in Porto Alegre:+55 / 51 8419.2169
---