24.02.06
WCC opens new channels for youth involvement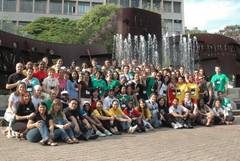 More articles and free photos at
The World Council of Churches 9th Assembly sent a strong message on Thursday 23 February that youth are an integral part of the WCC's work, and their voices need to be heard.
Assembly delegates affirmed the creation of a new entity that answers some of the concerns presented in Porto Alegre. The Assembly approved the creation of "a representative body of young adults" that will "coordinate the various roles of young adults connected to the WCC and facilitate communication between them".
The recommendation arose from a statement on youth contribution presented earlier in the Assembly to WCC moderator Catholicos Aram I and general secretary the Rev. Dr. Samuel Kobia. The statement, prepared by a regionally representative group of youth delegates and stewards, presented nine recommended objectives. Those included strengthening youth contribution to all WCC programme areas, equipping youth leadership with ecumenical formation, and serving as a liaison between member churches and the WCC on youth concerns.
The 9th Assembly included about 700 youth participants (defined as those aged 30 and under). About 100 youth served as delegates, and all youth fully participated for the first time in every ecumenical conversation at this Assembly; every Assembly committee also included youth. Concerns came, however, when youth made up only 15 percent of the nominations committee's slate for central committee - far short of the 25 percent goal suggested. The nominations committee has recommended that a review of the nominations process should be a priority for the next central committee.
The Assembly acknowledged several times thereafter that - while progress has been made - work remains in hearing and responding to the voices of youth. The new body of young people will "create space for meaningful participation of young adults in the life and decision-making of the WCC" and will "hold the WCC accountable to its goals regarding young adults".
Additionally, in a separate report, the Assembly stated the need for "promoting ecumenical leadership development of youth" with "full participation of youth in all programmes of the WCC".
Assembly website:www.wcc-assembly.info
Contact in Porto Alegre:+55 / 51 8419.216
---