24.02.06
Plight of children in Northern Uganda "horrendous" but "ignored" says WCC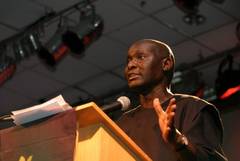 More articles and free photos at
The plight and misery of children caught up in a little-known but long-drawn-out war in northern Uganda was the object of a message sent 23 February by World Council of Churches (WCC) general secretary, Rev. Dr Samuel Kobia, to the Church of Uganda and the Uganda Joint Christian Council.
"It may not be right to draw up a hierarchy of suffering among the many ongoing conflicts in the region [...] but some are horrendous and tend to be ignored by the international community and the media," the message says.
It calls on WCC member churches to "unequivocally denounce those responsible for committing these crimes against humanity with such impunity," and to "urge the international community to remain seized of the situation in northern Uganda and take all action needed to stop the human rights violations".
The WCC's concern was sparked off by a presentation on "Saving God's children from the scourge of war" made by LBL Foundation for Children's president to the WCC's 9th Assembly in Porto Alegre, Brazil. In it, Mr Olara Otunnu reported on the human rights and humanitarian catastrophe in northern Uganda that has been going on non-stop for the past 20 years. According to Otunnu, two million people, of whom 80% are women and children, have been forced by the conflict to flee their homes and seek shelter in some 20 government-run IDP camps that Otunnu calls concentration camps.
Assembly website:www.wcc-assembly.info
---