Below is one of a selection articles found in an attempt to gauge the impact in the media of the WCC's 9th Assembly. Since it appeared in an independent publication, this article neither represents nor necessarily reflects the official policy of the World Council of Churches.
25.02.06
WCC Assembly concludes; Thomas calls it 'a witness that the gospel can transform divisions'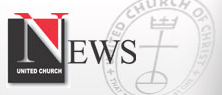 Religion News Service - In an era of global turmoil over religion, the fact that a relatively diverse body of Christians from around the world could meet and leave 10 days later without much acrimony was enough for some to call the 9th Assembly of the World Council of Churches a success.
"The simple reality that 300 churches from 100 countries gathered for worship and prayer is a witness that the gospel can transform divisions: cultural, political, as well as confessional," said the Rev. John Thomas, the general minister and president of the United Church of Christ (UCC), in an interview. (...)
---