11.02.06
Youth Pre-Assembly - Kobia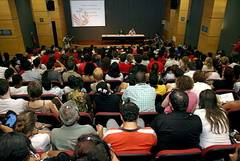 WCC general secretary Rev. Dr Samuel Kobia addressed three pre-assembly meetings in Porto Alegre on Saturday, culminating with a presentation and question-and-answer session with the youth meeting.

Kobia named three major focus areas in explicating the Assembly theme, "God, in your grace, transform the world": transforming our relationships to one another in society, transforming our relationship to God and God's creation, and engaging in transformative justice.

"To me, the WCC is a space to be, a space to particpate in, and a space to grow in", Kobia said. "There is no other organization like the WCC in the world. It is privileged in terms of bringing together peoples of diverse experiences, histories, cultures, and traditions." He described the WCC as a "transformative space", and he urged youth delegates to transform the WCC, as well.
---