13.02.06
Intercultural programme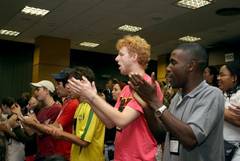 Youth attending a pre-assembly gathering were invited to share in a dynamic and spirited intercultural programme in Porto Alegre Sunday night. Participants from seven regions presented a wide variety, ranging from dance to singing to telling stories.
Many participants wore traditional costumes for the event, and some taught their dances and songs for the group to learn. The Latin American region had the largest contingent, filling the stage as they performed traditional dances.
Meghan Nicholls, an Anglican from Canada, said the intercultural evening highlighted a weekend that brought cultures together in many ways. "It has definitely helped in forming and building relationships and bringing knowledge to people that may not have had as much experience with intercultural relations", Nicholls said of the pre-assembly time.
Numerous other cultural exhibitions will take place during the Assembly through the offerings of the mutirão.
---