14.02.06
Youth show the way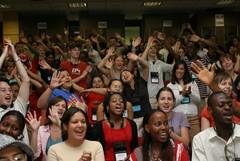 Young people identified a practical way every person at the WCC assembly could do something to change the world: visit the Changemaker stand in the assembly's exhibition hall and have their photo taken for a campaign to stop human trafficking.
No matter that they would need to sit in a box and wear a sign saying, "Not for sale!"
At a Mutirao workshop on Tuesday young people challenged the church and offered tools to be active in transforming the world. Before asking participants to discuss themes such as trade, debt, HIV/AIDS and the environment, they gave examples of successful campaigns, including that of Changemaker, an international non-governmental youth movement that was initiated by Norwegian Church Aid in Norway.
Changemaker lobbied the Norwegian Minister for Development to meet its demands to cancel the debt left behind by former dictators. In Finland, Changemaker set up a tent village in freezing Helsinki in solidarity with people elsewhere in the world who lived on less than $2 a day.
---