17.02.06
Marching against violence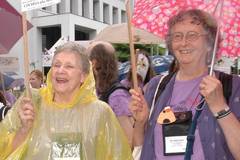 Midday rain didn't dampen the enthusiasm of scores of women in purple T-shirts and others who marched on Thursday, 17 Feb., to end violence against women and children in church and society. The campus quickly filled with men, women and young people singing to the beat of drums and carrying colorful signs and banners.
Why purple? A brochure advertising the march explains that purple is a colour of resistance in Latin America. Brazilian women organizing against violence wear purple to symbolize their solidarity with survivors of violence.
Among the marchers were Helen Hood and Penny Stuart, coordinators of the Edinburgh, Scotland, office of the WCC's Project on Overcoming Violence Against Women. The project, which officially ends after this Assembly, is part of the WCC's Decade to Overcome Violence.
---