15.02.06
Have a laugh and study the Bible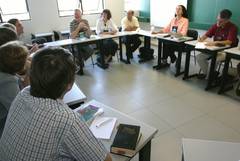 The Assembly's Mutirao Bible studies opened on Wednesday with a reggae song and lessons in making noises and punching the air.

According to one of the coordinators, the Rev. Dr Jione Havea, the studies are to provide a welcoming and joyful space where people can have a good laugh and look seriously at the biblical text.

To help participants look at readings in a different light, each day the studies will feature different audio-visual elements, from movement based on the text to movie clips and images of recent world catastrophes.

On Wednesday the Word was literally cast among the people in the form of a scroll rolled down an aisle. They then were asked if the phrases "to bring good news to the poor, proclaim release to the captives, recovery of sight to the blind and to let the oppressed go free" should be taken literally or metaphorically.

The object of the series of studies will be to consider what the consequences of transformation might be. Transformation, said Havea, implies change and people are not always comfortable with change.

The Bible studies have been coordinated by a team of ten of the world's best Bible study leaders using texts published for the Assembly in Springs of Living Water: Bible Studies on Grace and Transformation.


---