16.02.06
Good news for the oppressed?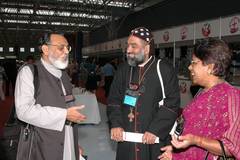 "If the Gospel fails in India, we have no Gospel to preach."
These were the words of the Rt Rev. Dr V. Devasahayam of the Church of South India at a Mutirao session on Dalit perspectives on the Assembly theme.
A panel of theologians moderated by the Rev Chandran Paul Martin spoke of the oppression suffered by Dalits, members of the lowest caste in Hinduism.
Devasahayam said that Dalits had become Christians in large numbers in spite of missionary efforts to attract upper caste Hindus, but that the caste system was still entrenched in the Church. "When the leadership of the Church passed into upper-caste Indian hands, Dalits realised that their rights were being denied within the Church itself," he said. "Christian faith has to interface with the caste culture and say, "This is inconsistent with the Gospel of Christ. It is a denial of the concept of the Church."
Dr Mohan Larbeer, principal of Tamil Nadu Theological Seminary, said that the fact that missionaries had not challenged the caste system was a continuing problem for Dalits. "We Dalits continue to see the God who sanctifies this," he said.
---