13.02.06
God's grace and wisdom is for all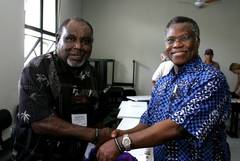 Mutirão participant Bishop Saibo Mabo (pictured with WCC general secretary Rev. Dr Samuel Kobia) preached at the pre-assembly meeting of indigenous peoples on February 12, using the three wise men to illustrate how the grace of God flows and leads us.

Bishop Mabo, National Torres Strait Islander Bishop in the Anglican Church of Australia, began his sermon by softly repeating words of Torres Strait Islander and Aboriginal welcome: maiem, seu ngpa, maluna and qwa.

He said the three wise men came as one people with gifts from their respective cultures and worshipped our Lord Jesus. Today, he said, God wants all cultures and all races to find Jesus.

"God's grace leads us indigenous peoples to deeper wisdom, knowledge, and understanding of truth. The good news of Jesus is the welcoming message, the message of welcome.

"Our Lord Jesus loves everyone and welcomes everyone."

Bishop Mabo said, "God's grace flows in us and through us to give us the spiritual understanding that God is the God of all creation … of people of every race and culture … with different languages, traditions and customs.

"God welcomes us and is saying today: maiem, seu ngpa, maluna and qwa."


---