16.02.06
An in-tents experience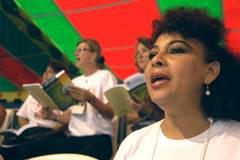 Here a tent, there a tent: You can't go far on the Pontifícia Universidade Católica campus without seeing one. In the subtropical climate of Porto Alegre, they provide a perfect spot for displays or gatherings.
The largest of the lot is the massive worship tent, a circus-type structure under which several thousand people can sit. Its blue, red, and green stripes add a colorful atmosphere to morning and evening prayers each day. It is the first thing Assembly participants see as they get on or off buses providing transportation to area hotels.
At other spots on the campus sit the indigenous peoples' tent and the arts and crafts tent, where jewelry, shirts, and other items with local flavour can be purchased. A green tent houses the Ecumenical Water Network, and next to that are three white youth tents sitting in a row. In addition to getting updates on activities posted on a board, youth can relax in numerous bean-bag chairs or listen to music under the shelter.
---