19.02.06
Visiting the churches of Porto Alegre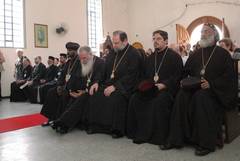 Participants in the 9th Assembly scattered across Porto Alegre for worship with local congregations Sunday morning. More than two dozen congregations in the city welcomed the WCC participants into their midst.
The diverse congregations included ones from the Anglican, Baptist, Catholic, Lutheran, Methodist, Orthodox, Pentecostal, and Presbyterian traditions. WCC visitors brought greetings at some of the churches.
Some of the congregations hosted the visitors for lunch before delegates and others reassembled on the Pontificia Universidade Catolica campus for a plenary session in late afternoon.
---