21.02.06
Creative ways of peacemaking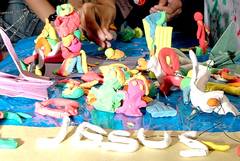 One wall is covered with participants' handprints in all the colours of the rainbow. Inside, there's a table with clay models and lettering, created by visitors in vivid reds, blues, greens and yellows. There's a "mourning wall" inside where people are encouraged to express their sorrows and hopes for the future, and an interactive corner where they are invited to share their personal stories about how churches are working for peace.
In fact, there's something new every day - today, passers-by were encouraged to burst balloons in what Kent Yoder, staffing the exhibit, described as "a celebration for the peacemakers of the world".
The Decade to Overcome Violence is a major WCC programme, now halfway through its course. It brings peace activists and community-building groups together in a global network.
---