20.02.06
Artistic expressions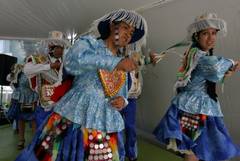 The mutirão at the 9th Assembly is a space opened to the expression and sharing of churches, Christian organizations, and groups worldwide. Part of that experience has brought vibrant activities of artistic expression to the university's halls and to the walkways - dubbed "Ecumenical Avenue" - that connect the major sites on the campus.
Dance and theater groups daily give demonstrations of the cultures of their towns and regions, along with presentations of the mission and witness of the churches and organizations from which they come. Groups have included a dance troupe from the Evangelical Lutheran Church in Bolivia, Dalit drums from India, musical performances by street children from Botswana, street theatre from Sri Lanka, drummers and dancers from the Cook Islands, and a long list of others.
The activities, occurring at various times through the day, have been strongly supported by Assembly participants.
---