01.12.05
Labouring for God's transformation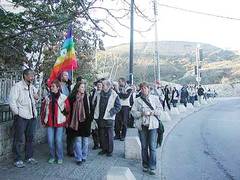 The theme of the 9th Assembly of the World Council of Churches - God, in your grace, transform the world - speaks to many people in different ways. What does it say to Christians living in a situation as difficult as that in Palestine? Naim Ateek, a leading Palestinian theologian, reflects on this question.
This theme is a prayer that speaks to many people in various ways. To Palestinian Christians, it communicates five important messages, each of them essential in the movement towards the transformation of our communities and the world.
It is a plea that is directed to God. We recognize the need for transformation, and we go in prayer straight to the one who is able to bring such transformation about. Ultimately, it is God, the fountain of life who renews and transforms us. In times of pain, distress and oppression the human spirit turns to God as the source of healing, comfort and liberation. Palestinian Christians and Muslims living under the Israeli occupation of their country constantly direct their supplications to God. Faith and trust are placed in the power of God and not in the power of human beings.
It recognizes God's way of transformation. God relates to us through grace, mercy and love. It is not through violence or war that God brings about the transformation of the world. God's grace encompasses all of God's wonderful attributes. To pray for God's grace is to reject the way of empire, that brings about change through the destructive forces of violence and war. Equally, it is a rejection of the methods used by religious extremists who kill others in the name of God. To appeal to God's grace is to seek God's will in the world and to do that will. God's will is justice, peace and reconciliation and not domination and oppression.
It is a prayer that demands the active participation of the supplicant. It does not look to God for help while sitting back passively and watching things deteriorate. As Paul says, we labour with God. Indeed, without God, we can do nothing, but we are partners in God's work of transformation. When God transforms people, they are transformed in the image of the transformer. We cannot be satisfied with mere change. We seek the total transformation of people from within so that, in turn, they can become instruments of change and transformation. We are children of God when we are involved in the work of peace-making. God has entrusted us with the work of reconciliation. We work together with God to make this world a better place for all.
Transformation implies a new creation based on the justice and mercy of God. It begins when justice is done so that peace can be established. In the Palestinian context, justice will be achieved when the Israeli illegal occupation of our country is terminated. Built on the firm foundation of justice, a peaceful coexistence of a Palestinian state and an Israeli state, one alongside the other, is the goal we work for. Transformation, however, goes beyond the attainment of justice and peace. It must open the way for the reconciliation and forgiveness that only God's mercy can make possible. Transformation is realized when Israelis and Palestinians - Jews, Muslims and Christians - recognize their common God-given humanity and live together in peace as good neighbours.
The prayer seeks a comprehensive transformation. Our world has become so small that what happens in one area affects other areas, sometimes very drastically. Injustice in one place has ramifications in other places. We cannot be selfish when we pray and work for transformation. It has to embrace all the people of the world. This is a prayer that transcends denominationalism, ethnicity and racism. It reaches out to all. Although as Palestinians we feel our pain and we work and pray for the end of the occupation of our country, we cannot be parochial. We must remember our brothers and sisters in other places who are also living under oppressive forces and seeking liberation. Transformation is never complete so long as there are oppressed people suffering under the yoke of domination. The challenge is always to work with God for the transformation of the world.
Let us pray God, in your grace, transform the world. And the grace of our Lord Jesus Christ, the love of God and the fellowship of the Holy Spirit be with us always. Amen.
(*) Rev. Dr Naim Ateek, an ordained minister in the Episcopal Church, is the founder and director of the Sabeel Ecumenical Liberation Theology Center in Jerusalem. A leading Palestinian Christian theologian, he has published, among other books, Justice and Only Justice, a Palestinian Theology of Liberation (Orbis, 1989). He lives and works in Palestine/Israel.
---