22.02.06
Churches can do more to counter stigma, suffering of HIV and AIDS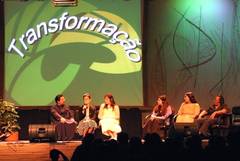 by Stephen Webb (*)
More articles and free photos at
According to participants at a press conference on HIV and AIDS at the World Council of Churches Assembly, meeting in Porto Alegre, Brazil, churches are best placed to tackle HIV and AIDS.
But they are not doing enough to address the stigma attached to the disease or acknowledge the horrific implications of its increase around the world.
Yesterday's press conference heard how the WCC's Ecumenical HIV and AIDS Initiative in Africa (EHAIA) began because churches were burying more people than they were baptizing.
Apart from the focus on Africa, the WCC health desk has been working with regional ecumenical organizations and in Latin America, the Caribbean, Asia and in Eastern Europe to bring the issue of HIV/AIDS to the forefront of community attention in those regions.
Dr Sue Parry, the Southern Africa Regional Coordinator of EHAIA, said the organization's plan of action included making churches HIV and AIDS competent by encouraging theological coordinators to mainstream HIV and AIDS into theological education.
However, she was anxious that AIDS did not have a higher profile on the Asssembly agenda. She said HIV and AIDS was a justice issue that cross-cut nearly all others, including gender, poverty and trade. She said 40 million people were living with HIV but only 15 per cent of those had access to antiretrovirals. "We need greater urgency," she said. "This is breaking apart the fabric of society."
Ms Gracia Violeta Ross Quiroga (Bolivia) a member of an evangelical church and a member of the International Community of Women living with HIV-AIDS, said she wanted to tell the Assembly how weak the churches had been in their testimony. She said, "We need to have more commitment from the church. It is a great opportunity to proclaim the gospel and be true witnesses of God's grace."
Mrs Renu Chahil-Graf, UNAIDS country coordinator for Brazil, said the United Nations strongly believed faith-based organizations could make a contribution by working with the UN to deliver prevention methods through church channels, targetting 16-24 year olds, countering stigma and discrimination, and empowering people living with AIDS to make them productive members of the community.
Rev. Jape Heath, a co-founder and general secretary of the African Network of Religious Leaders Living with or Affected by HIV and AIDS (ANERELA), said people living with HIV suffered three kinds of stigma: personal, societal and faith-based. He said ANERELA sought to develop work-based policies so employers and churches would take people with HIV and AIDS seriously and respect their human rights.
He said that would lead to full integration of people with HIV and AIDS into work on that issue.
Heath said churches were beginning to understand that HIV was not just a consequence of sin. Other factors played a role, such as poverty, gender imbalance, vulnerability of children and mother to child transmission. He said stigma could be challenged by giving people accurate information.
Rev. Canon Gideon Byamugisha, an Anglican minister from Uganda, was the first practising HIV-positive priest in Africa to break the silence associated with HIV and AIDS by declaring his HIV status in 1992. He said his life symbolized that HIV was preventable -- that it was possible to break the transmission chain. AIDS was manageable, he said, if people kept their promises and increased their commitment.
Responding to a question about churches and contraception, Heath said to limit discussion about the transmission of HIV to sex was to add yet another stigma. Messages about transmission had to be complete and whole, he said, including children, intravenous drug users, and people in poverty with no basic protection for carers. The churches had to start speaking holistically, he said.
The message was "SAVE", he said: safer practices, available medication, voluntary testing and counselling, and empowerment through education so people could make informed decisions about their lives. He said, "Unless we make treatment available, we are sitting on a time bomb we don't want to think about."
However, Parry said that with the introduction of antiretrovirals in developed countries came complacency. She said antiretrovirals were only part of the programme and prevention efforts must not stop. She said of particular concern were tourists who returned from holidays to the third world with more than photographs of their trips.
Quiroga said, "This is not about having a condom or not. There are questions of gender justice and violence, trade questions concerning the availability of medicines, and cultural problems of gender relationships."
Byamugisha said the churches' morality should address not only what was right but also what was safe. He said, "Whenever you hear a church leader who is not AIDS competent, what they need is not criticism, but accompaniment."
[785 words]
(*) Stephen Webb is media officer for the New South Wales Synod of the Uniting Church in Australia.
Assembly website:www.wcc-assembly.info
Contact in Porto Alegre:+55 / 51 8419.2169
---