11.01.05
A Latin American perspective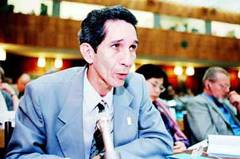 The church in Latin America and the Caribbean has experienced a reawakening of its social consciousness, as also has the church in many other parts of the world.
In this regard, it should be emphasized that this is true not only of the poor churches of the third world but also of the churches in highly developed countries that feel a responsibility towards their neighbours and attempt to work together to create a world of greater justice and equality. A good example of this is the churches of the United States, who are devoting the whole of 2004 to highlighting the programmes of the Decade to Overcome Violence, launched some years ago by the WCC. Their decision shows that the United States churches wish to be humble instruments of the grace of God. Their example is a great encouragement to many other churches.
To speak of the transforming grace of God in Latin America and the Caribbean is a powerful challenge. We cannot be agents to lull our people to sleep; we cannot be agents to close people's eyes to the problems afflicting them. On the contrary, we are agents to summon all people everywhere to make the world a better place and ourselves to work for it motivated by our Christian concept of justice. In this mission, when our strength fails and we are at a loss where to turn, we realize that we are dependent on the grace of God.
Today there are seemingly insuperable tragedies such as terrorism, the war against terrorism, drug trafficking and many others. But our Christian faith stresses that God alone is omnipotent, and none other. Dependence on God is to be seen in our trust in God's grace and should move us to work for a better world.
When we repeat "God, in your grace, transform the world", we are not evading our task, but we are affirming that in order to do it we need divine help and trust in God.
| | |
| --- | --- |
| | Hector Mendez, Presbyterian Church of Cuba |
---